Instant Container Gardens was published in May 2007. Over 150 full color pages show how to create spectacular container gardens instantly, using step by step illustrated demonstrations. All the plants for side planting, from years of experiment are listed. And 34 Foolproof plants are featured. Planting and Maintenance tips plus many Design Ideas to transform your garden.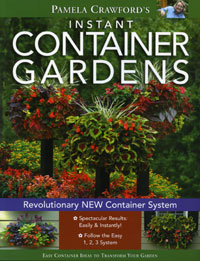 Beautiful, Tasty Veggies & Herbs!
Pamela tested 1,768 plants to find out:
1. Which edibles are the easiest to grow
2. How to make them look good in a container
3. Incredible production in small spaces
Book contains 172 color pages of herbs, veggies and flowers with helpful information on how to grow them in all sorts of containers.