Window Box Planters with attached liners
Pamela Crawford's exclusive containers feature side planting holes, so you can create beautiful flower baskets instantly. Display them on Kinsman's Border Columns, ground covers or on patios. We will show you how.
Flat bottoms make them easy to plant and transport.
Use them on windows, walls and railings. They can also be used directly on decks and patios, using pot feet supports to raise them off the ground. Constructed from heavy gauge steel bars, coated in black plastic.
To order window box planters or replacement liners, visit Kinsman Garden.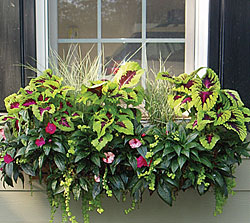 Window Boxes with side planting look full and luxuriant soon after planting